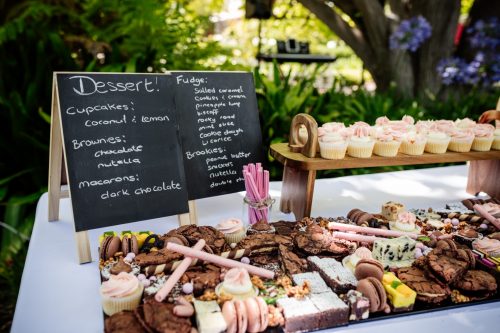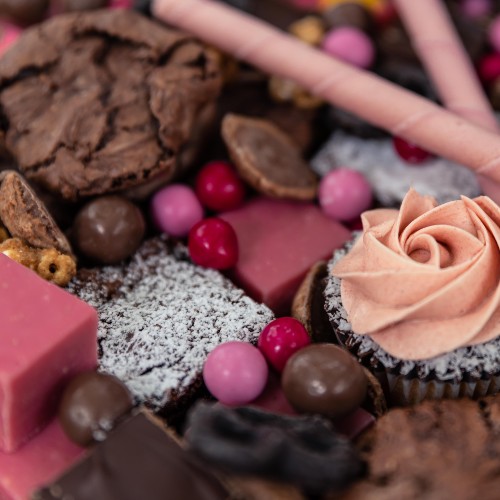 Dessert Grazing Tables
Dessert is the last meal, the final hoorah, so make it count, make it worth celebrating.
A Once Upon A Pie dessert grazing table is guaranteed to be a hit, a feast for the eyes and especially the belly!
With a range of packages available from a small totally disposable flat lay option for events of 20+ people, right up to a full set-up that includes display items and multi levels of desserts for hundreds of people. All packages are customised by you choosing the flavours off our extensive flavour menu.
Inclusions
All dessert grazing tables include a mixture of brookies (brownie-cookie sandwiches), mini cupcakes, macarons, fudge, slices, and brownies all handcrafted from scratch, specially for your event, plus gourmet Cracklecorn caramel popcorn, chocolate covered pretzels, Corinthian wafer biscuits and a mixture of confectionery to suit your colour palate. 
Wedding Favours
These dessert grazing tables also work well as your wedding favour. Over-cater on dessert! Pop a favour bag or box for the guests by the side of the table and let them take home a little something for later!
Allergy friendly desserts
Guests have food allergies? Gluten free, dairy free, egg free and vegan-friendly options are available and can be boxed up / displayed separately to avoid cross-contamination. However, please note whilst the best care is taken to avoid traces occurring, all food is prepared in the same kitchen.
Get a Customised Dessert Table Quote
Contact me today for a quote. Please let me know the date, location and time of the event, plus the number of guests attending, and I will send you the best sized package for the job.
Dessert Grazing Platters
Dessert grazing platters available for collection for smaller events, starting from $300, these come set up on disposable platters, boxed for transport.