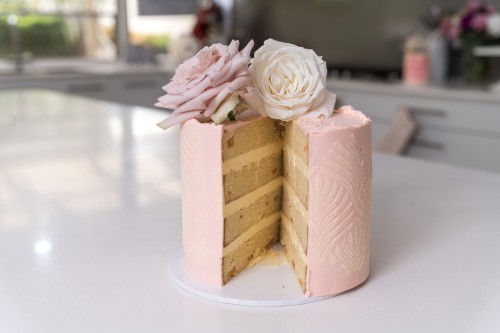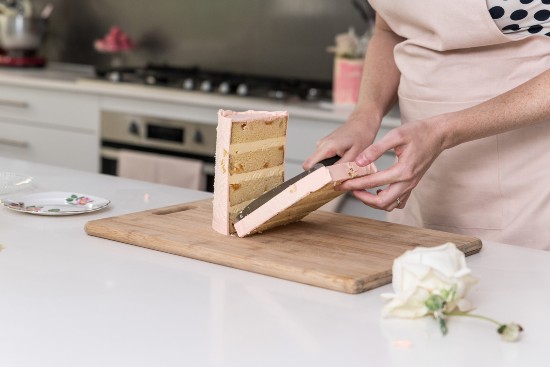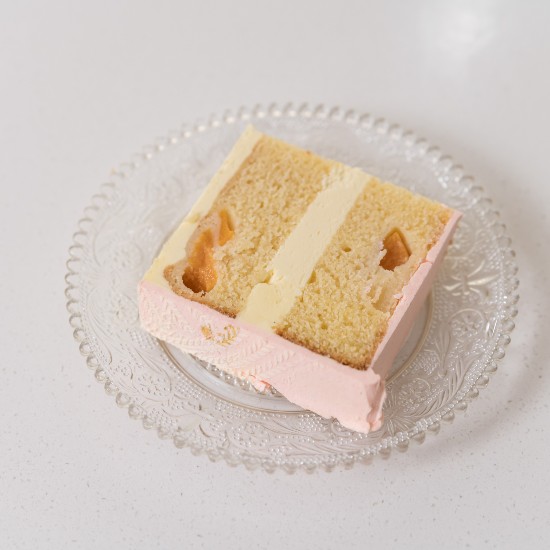 Custom Cakes
Beautiful bespoke buttercream cakes available from sizes 5" and bigger, choose a design from my gallery, or chat to me about your theme and style and I can advise what I can do for you!
No fondant cakes here, I purely specialise in buttercream finished cakes and am passionate about making gorgeous elegant cakes for all occasions.
Prices:
5", 3 layer midi cake FROM $80 (serves 9-18)
5", 4 layer tall cake FROM $99 (serves 15-25)
6", 4 layer tall cake FROM $125 (serves 20-40)
7", 4 layer tall cake FROM $150 (serves 30-60)
Two tiered cakes available on request. Final price depends on decorations and design. Cake toppers, fresh or dried flowers etc incur extra charges.
Why such a big serving range? Depends on your serving size. Coffee portions will see your cake stretch to double the servings than dessert sized portions. Want to know how to cut the cake? Watch my video "how to cut a tall cake" on my homepage.
Custom Cake Flavour Menu:
Standard, gluten free, dairy free, vegan and egg free options available. 
Chocolate
Chocolate Mud Cake with Vanilla or Chocolate Swiss Meringue Buttercream or Chocolate Ganache
Chocolate Salted Caramel
Chocolate Mud Cake with Salted Caramel Swiss Meringue Buttercream and Housemade Salted Caramel Sauce
Ferrero
Chocolate Mud Cake with Nutella Buttercream 
Snickers
Chocolate Mud Cake with Peanut Butter Swiss Meringue Buttercream, Housemade Salted Caramel Sauce 
Chocolate Raspberry
Chocolate Mud Cake with Dark Chocolate Ganache with Housemade Raspberry Curd 
White Chocolate
White Chocolate Mud Cake with White Chocolate Ganache 
White Chocolate Raspberry
White Chocolate Mud Cake with White Chocolate Ganache and Housemade Raspberry Curd
Banana Salted Caramel
Banana Cake with Salted Caramel Swiss Meringue Buttercream and Housemade Salted Caramel Sauce
Banana Nutella
Banana Cake with Nutella Swiss Meringue Buttercream
Caramel Mud
Caramel Mud Cake with Salted Caramel Ganache
Caramello
Chocolate Mud Cake with Chocolate ganache and Salted Caramel sauce
Vanilla
Vanilla Butter Cake with Vanilla Swiss Meringue Buttercream
Vanilla Lemon
Vanilla Butter Cake with Vanilla Swiss Meringue Buttercream and Housemade Lemon Curd
Vanilla Strawberry
Vanilla Butter Cake with Strawberry Swiss Meringue Buttercream
Coconut
Coconut Cake with Coconut Swiss Meringue Buttercream
Coconut Lemon
Coconut Cake with Coconut Swiss Meringue Buttercream with Housemade Lemon Curd
Coconut Lemon Raspberry
Coconut Cake with Raspberry Swiss Meringue Buttercream with Housemade Lemon Curd
Orange Poppyseed
Orange Poppyseed Mud Cake with White Chocolate Ganache
Egg Free Cakes and Cupcakes
Chocolate Mud
Chocolate cake
Choc Salted Caramel
Snickers
Ferrero
Vanilla
Vanilla Strawberry
Banana Nutella
Gluten Free Cakes and Cupcakes
Chocolate
Vanilla
Choc Salted Caramel
Ferrero
Vanilla Lemon
Vanilla Strawberry
Chocolate Raspberry
Vegan Cakes and Cupcakes
Chocolate or Vanilla Cake with your choice of the following filling:
Cookie butter (Biscoff) buttercream
Chocolate Buttercream
Vanilla Buttercream
Cookies and Cream Buttercream
Peanut Butter Buttercream
Cupcakes
Chocolate
Vanilla
Snickers
Chocolate Salted Caramel
Cookies and Cream
Vanilla Lemon
Ferrero
Banana Salted Caramel
Coconut
Coconut Lemon
Lemon Meringue*
Biscoff*
Lamington*
Choc or Vanilla Candyland*
*Premium flavours .50c surcharge per cupcake applies